| | |
| --- | --- |
| Convective Outlook: Mon 11 Apr 2016 | |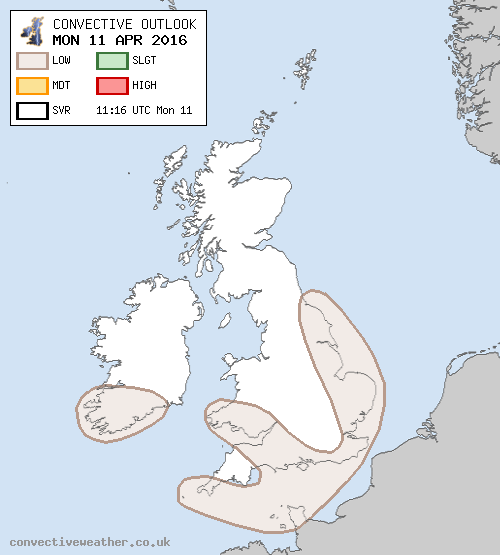 Convective Outlook
VALID 06:00 UTC Mon 11 Apr 2016 - 05:59 UTC Tue 12 Apr 2016
ISSUED 11:16 UTC Mon 11 Apr 2016
br> br>
ISSUED BY: Dan
UPDATE 11:16 UTC Modifications made to LOW area(s) based on latest guidance. Chance of some surface-based convection developing near frontal boundary later this afternoon over West Country / S Wales. Imported elevated convection this evening seems more likely to be advected into East Anglia rather than SE England (although probably missing East Anglia and staying largely offshore). Scope also for (decaying) shower/storms to be advected from N France towards some Channel coasts later in the night.
... MIDLANDS / WALES ...
Complex setup on Monday, with advection of higher WBPT airmass continuing to spread westwards across England and Wales to the north of a slow-moving NW-SE oriented frontal boundary. This, in response to diurnal heating across the Midlands/Wales, may destabilise sufficiently to develop some surface-based embedded convection on the northern fringe of this frontal zone, but a lot of uncertainty surrounds this scenario, not least with amount of cloud cover perhaps inhibiting sufficient heating.
... SE ENGLAND / E ANGLIA / E ENGLAND ...
Destabilisation is likely to occur across NE France / BeNeLux, with convection becoming increasingly elevated as it travels NW-wards during the late afternoon and evening hours, in theory towards SE England / E Anglia - although it is noted several models keep most activity largely offshore over the North Sea. Hence we remain with a LOW threshold for now, with any elevated convection then running northwards up eastern coastal counties through Monday night.
... S ENGLAND ...
A round of afternoon/evening showers/storms are also possible across N France, which may then advect across the English Channel towards southern coastal counties - however, current expectations are this activity will weaken significantly as it interacts with colder SSTs.
... SW ENGLAND / S IRELAND ...
In the post-frontal environment, low-level wind convergence in a slack surface pattern, combined with some element of orographic forcing, is likely to aid in the development of a few isolated heavy showers. Instability is marginal and profiles quite dry, but given 40-50kts DLS this may be enough to organise convection sufficiently to produce some sporadic lightning. Slow storm motion suggests a risk of temporary local surface water issues, with perhaps also some small hail.