| | |
| --- | --- |
| Convective Outlook: Sun 27 May 2018 | |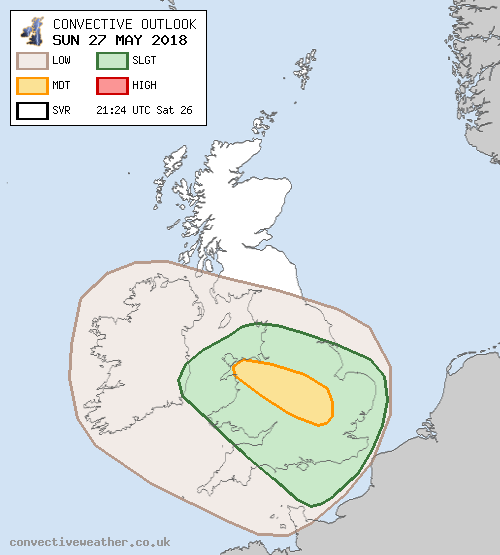 Convective Outlook
VALID 06:00 UTC Sun 27 May 2018 - 05:59 UTC Mon 28 May 2018
ISSUED 21:24 UTC Sat 26 May 2018
br> br>
ISSUED BY: Chris/Dan
Similar to Saturday, plume situations are extremely complex and the detail can (and probably will) change - so it is best to adopt a broad-brush approach and highlight trends rather than specifics, while acknowledge even some areas in a SLGT or MDT may remain lightning-free.
It is likely elevated thunderstorms will still be ongoing in various places at the beginning of this forecast period - especially northern England, perhaps East Anglia, and somewhat of a signal for another cluster to move into the Devon/Dorset area, tracking NW over S Wales during Sunday morning.
In the wake of early convection, strong surface heating of the warm, moist low-level airmass (dewpoints 17-19C) should yield up to 1,500 J/kg CAPE. Much of this atmosphere will be capped, and there is always the risk of sporadic areas of elevated convection to develop which may also serve to inhibit surface-based convection. Nonetheless, if sufficient insolation can develop, combined with surface troughing/marked low-level wind convergence then a few scattered thunderstorms may evolve along a NW-SE line from N Wales through the Midlands towards London (and perhaps beyond into SE England, though this less-clear given the potential for elevated thunderstorms to drift in here).
Shear is rather weak, and so convection may struggle to become organised and could collapse after a relatively short time (less than an hour per individual thunderstorm), but given the magnitude of instability available, hail up to 2.0cm is possible along with flash flooding given PWAT 35-40mm.
Thunderstorms may continue across parts of the Midlands / East Anglia / SE England through Sunday night.