| | |
| --- | --- |
| Convective Outlook: Mon 28 May 2018 | |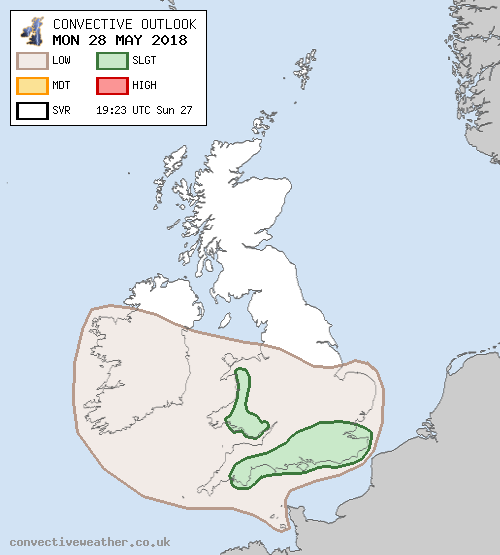 Convective Outlook
VALID 06:00 UTC Mon 28 May 2018 - 05:59 UTC Tue 29 May 2018
ISSUED 19:23 UTC Sun 27 May 2018
br> br>
ISSUED BY: Chris
...MONDAY DAYTIME...
Southern England and Wales
Unlike the last few days, there will be support for surface based convection on Monday afternoon across southern England and parts of Wales. Surface based CAPE values in excess of 1,000 J/kg will develop by the afternoon and along with weak surface convergence give way to thunderstorm development by mid-afternoon. Initiation will likely begin aided by topography in Wales, and shortly after along the convergence zone near the south coast of England around 14-15z. Very weak shear and steering flow aloft will mean that thunderstorms will be slow moving and pulse variety, but could regenerate over the same areas giving the risk of localised flooding. Spot totals of over 50mm of rain are possible. A few funnels are possible near the weak convergence along the south coast and heavier showers could produce some small hail <1.5cm.
...MONDAY NIGHT...
Kent
Mid-level instability and associated elevated convection may stream out of northern France and the Low Countries overnight, particularly into the early morning hours on Tuesday, giving the potential of some lightning across extreme southeastern England.