| | |
| --- | --- |
| Convective Outlook: Mon 11 Jun 2018 | |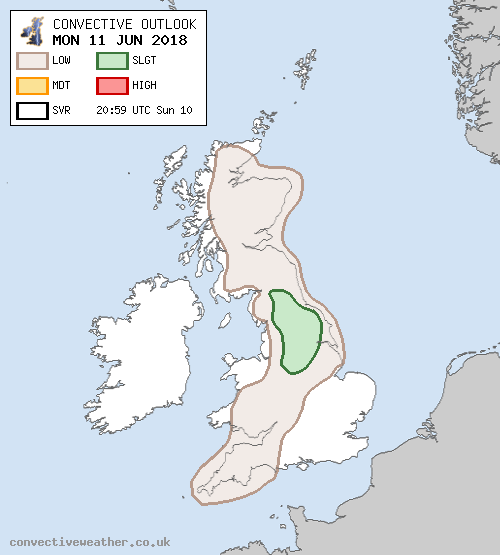 Convective Outlook
VALID 06:00 UTC Mon 11 Jun 2018 - 05:59 UTC Tue 12 Jun 2018
ISSUED 20:59 UTC Sun 10 Jun 2018
br> br>
ISSUED BY: Chris
Scattered heavy showers and some thunderstorms will develop over the Pennines on Monday...
A relatively slack pressure pattern combined with modest CAPE of 300-400 J/kg and orographic forcing will lead to heavy shower / thunderstorm development into the afternoon. Storms should fire over the higher terrain of the Pennines and drift slowly southeasterly in a northwesterly steering flow. Bulk shear values remain weak 15-20kts, so storms will generally be pulse storms, and with very slow movement could lead to some localised flooding, although this is considered low risk.
Weak low-level shear, combined with low-level CAPE will once again mean some land-spout type funnels are possible over higher ground as updrafts develop.
Elsewhere, drier mid-level air will limit thunderstorm potential in southern Britain, although instability combined with orographic lift will likely generate some isolated heavy showers over mid-Wales, southwestern England and the Scottish Highlands.