| | |
| --- | --- |
| Convective Outlook: Wed 08 Aug 2018 | |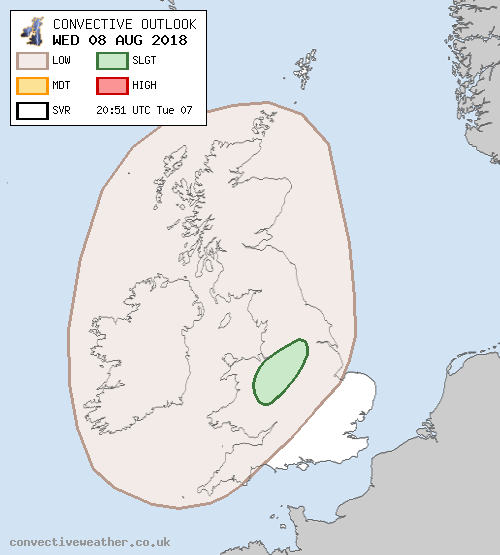 Convective Outlook
VALID 06:00 UTC Wed 08 Aug 2018 - 05:59 UTC Thu 09 Aug 2018
ISSUED 20:51 UTC Tue 07 Aug 2018
br> br>
ISSUED BY: Dan
A broad upper trough over the Atlantic to the west of Ireland will gradually approach, with strong mid and upper-level flow over the British Isles. Cool air aloft atop warm SSTs and diurnal heating inland will result in a few hundred J/kg CAPE and a scattering of showers in quite a few places - away from the south and east of England.
A few isolated lightning strikes will be possible from almost any shower, but the best overlap of marginal CAPE and strong deep layer shear (some 40-50kts) may allow some better-organised cells to develop from Wales across the W + N Midlands into northern England, capable of some small hail and gusty winds - associated with a shortwave moving northeastwards across an occluded front.
Showers along this occlusion will tend to decay during the evening hours as surface heating subsides and the shortwave overruns, but this front may become the focus for showery outbreaks of rain later in the night across the East Midlands / East Anglia / S + SE England as a more pronounced shortwave approaches from Biscay.
At the same time, steepening mid-level lapse rates will approach W Scotland overnight, with an increase in heavy showers likely here during the early hours - a few isolated lightning strikes may be possible with this activity.