| | |
| --- | --- |
| Convective Outlook: Sun 12 Aug 2018 | |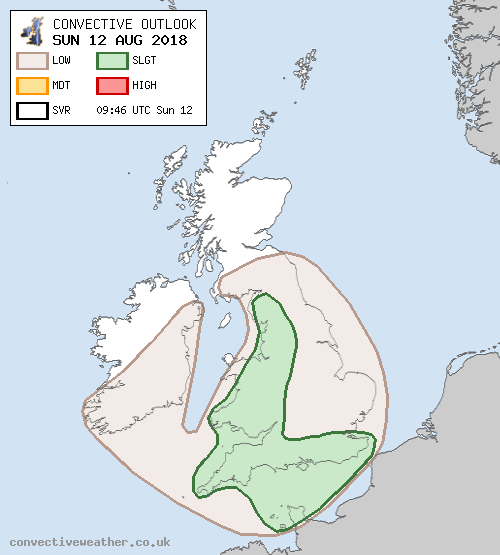 Convective Outlook
VALID 06:00 UTC Sun 12 Aug 2018 - 05:59 UTC Mon 13 Aug 2018
ISSUED 09:46 UTC Sun 12 Aug 2018
br> br>
ISSUED BY: Dan
UPDATE 09:46 UTC SLGT reshaped to reflect latest guidance. May need extending into East Anglia / E Midlands for this evening, but some uncertainty at the moment
Re-issued due to a technical problem

Broad upper trough will drift eastwards during Sunday, from the Celtic Sea and across southern England by Sunday night. Associated cold pool will steepen mid-level lapse rates, with SSTs and diurnal heating inland further adding instability. Several shortwaves will add forced ascent to the mix, with several areas of potential convective interest.
The first shortwave, on the forward side of the main upper trough lying from roughly Merseyside to Lyme Bay at 06z, will for a time encourage mid-level instability release along the cold front (mainly W Country to SW Midlands) - though saturated profiles suggest lightning activity may be rather limited. In either case, the shortwave will weaken and overrun, resulting with a decaying of precipitation along the cold front during Sunday morning.
A small upper disturbance may develop late morning over the W English Channel, inducing a wave along the cold front into Cen S England for the afternoon.
Elsewhere, the primary focus will be on airmass convection beneath a cold pool aloft as the upper trough slides eastwards. Low-level convergence and orographic forcing will play a key role in convective development, with numerous showers and a few scattered thunderstorms likely from SW England through Wales and into N England during the afternoon and evening hours. Slow storm motion and PWAT up to 35mm suggests local surface water flooding should be the main threat, though some small hail and gusty winds will be possible from the most intense cores. Low-level convergence and fairly low cloud bases may allow a few funnel clouds to form.
Falling heights / upper forcing may allow showers to persist well into the night across the Midlands and northern England, though questionable by this stage as to how much lightning activity will still exist. There is also scope for scattered showers / thunderstorms over N France to drift NE-wards towards SE England for a time on Sunday evening, as another shortwave slides across the area.
There should be an increase in shower / thunderstorm activity over the English Channel during the early hours of Monday, especially close to the coasts of southern England where showers may train over similar areas - hence the extension of the SLGT here.