| | |
| --- | --- |
| Convective Outlook: Tue 02 Apr 2019 | |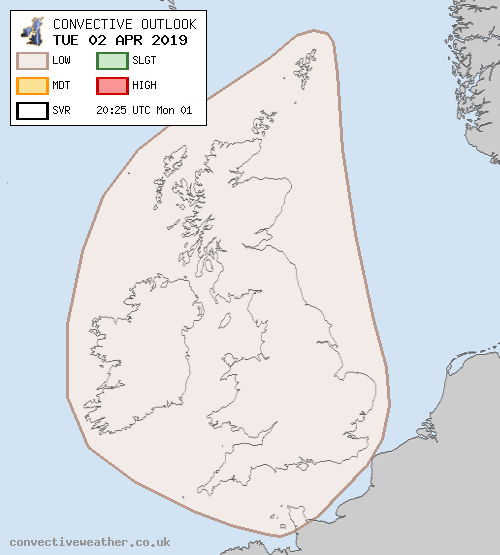 Convective Outlook
VALID 06:00 UTC Tue 02 Apr 2019 - 05:59 UTC Wed 03 Apr 2019
ISSUED 20:25 UTC Mon 01 Apr 2019
br> br>
ISSUED BY: Dan
Elevated showers may be ongoing across coastal parts of East Anglia and Kent at the beginning of this forecast period, posing a low risk of lighting. These will soon clear, and thereafter the attention turns to the post-frontal environment already over Ireland and western Scotland, and extending across the remainder of the British Isles through Tuesday.
A potent upper trough will extend southwards across the British Isles, with notably cold mid/upper levels creating very steep lapse rates and a few hundred J/kg CAPE. Numerous wintry showers will develop, both in response to relatively warm SSTs and diurnal heating inland. The strongest cells may produce a few lightning strikes, with numerous reports of graupel and small hail likely.
Beneath the trough axis, shear will tend to be weak due to both similar speed and direction with height. However, around the periphery stronger shear will be present, particularly across southern and western Ireland and also E/SE England. Tricky attempting to be more specific to areas with a greater lightning potential given the extensive nature of somewhat marginal instability, but perhaps the best overlap of favourable conditions will exist in S + E Ireland and across the Celtic Sea towards SW England - these areas may require an upgrade to a low-end SLGT if confidence improves.
Showers inland will tend to become more isolated overnight as nocturnal cooling of the boundary layer commences, but some will likely persist aided by both upper forcing and relatively warm seas around western coasts.