| | |
| --- | --- |
| Convective Outlook: Mon 22 Apr 2019 | |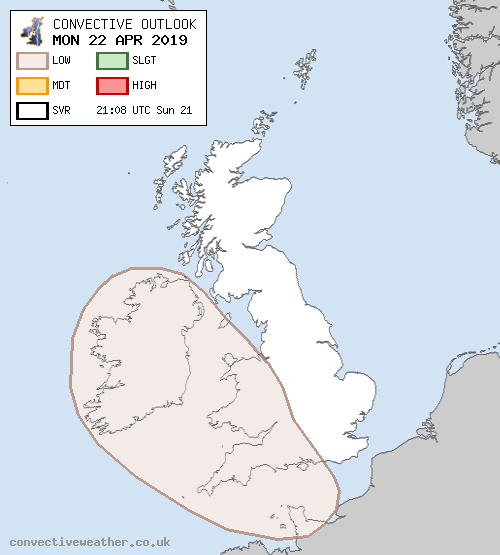 Convective Outlook
VALID 06:00 UTC Mon 22 Apr 2019 - 05:59 UTC Tue 23 Apr 2019
ISSUED 21:08 UTC Sun 21 Apr 2019
br> br>
ISSUED BY: Dan
Atlantic longwave trough will continue to dig southwards during Monday towards western Iberia. As a result, southerly flow aloft across the British Isles will gradually back southeasterly, advecting relatively high ThetaW airmass from France into southern and central Britain. Areas of medium/high level cloud will occasionally drift northward courtesy of weak mid-level instability and increased moisture aloft.
Deep mixing will likely occur through the day, resulting in steep low-level lapse rates. However, this will also likely mix drier air down to the surface, resulting in low dewpoints and large dewpoint depressions. Subtle forcing aloft will drift over S / SW Britain on Monday afternoon, coinciding with peak surface heating. This combined with low-level wind convergence and orographic forcing may allow a few isolated heavy showers / thunderstorms to develop late afternoon or evening, primarily Somerset/Glocs and into Wales. There could also be one or two over Ireland.
However, the vast majority of NWP guidance remains sufficiently capped to prevent any thunderstorm development. GFS and derivatives (WRF, NMM) often produce profiles that are excessively moist, and hence suggest much higher surface dewpoints than most other models for Monday afternoon. Consequently they often favour thunderstorm development - especially over mountainous areas - when in similar events in the past such storms have failed to materialise. UKV and AROME have also been known to be too keen for thunderstorm development in fairly capped environments.
As such, it is plausible that no thunderstorms may develop at all. That said, a broad LOW threat level has been introduced to cover the risk - at this stage it is difficult to be more precise where an isolated shower/storm may develop, though S + W Wales is most favoured. If confidence does improve a small SLGT may be introduced. Should a storm develop, given forecasting soundings and the potential magnitude of CAPE, there could be quite a bit of lightning locally. Any activity would then drift NW-wards towards eastern Ireland during the evening hours.
On Monday night, pulses of showery rain will move into S / SW England containing the remnants of deep convection originating from northern France. Weak instability suggests any lightning activity with this should be fairly isolated.