| | |
| --- | --- |
| Convective Outlook: Tue 23 Apr 2019 | |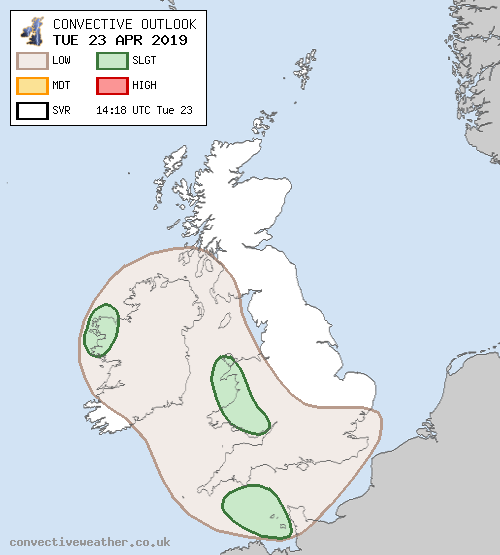 Convective Outlook
VALID 06:00 UTC Tue 23 Apr 2019 - 05:59 UTC Wed 24 Apr 2019
ISSUED 14:18 UTC Tue 23 Apr 2019
br> br>
ISSUED BY: Dan
UPDATE 14:18 UTC Minor tweaks to reshape the SLGT over Wales and NW Ireland based on latest guidance. Confidence in deep convection is still relatively low given largely capped environment persisting
... TUESDAY AFTERNOON / EVENING ...
Negatively-tilted longwave trough will continue to be located to the southwest of the British Isles on Tuesday, creating a southeasterly flow aloft with subtle disturbances running northwestwards along the forward side of this trough. As a result the overall pattern is very similar to Monday, with pulses of medium/high-level cloud associated with weak elevated instability, but a generally capped environment to surface-based convection.
However, provided sufficient moisture pooling can occur along a zone of low-level convergence from Glocs/NE Somerset northwestwards across S + W Wales, then a few isolated heavy showers / thunderstorms will be possible during the late afternoon and evening hours. This is rather dependent on surface dewpoints reaching 12-15C, and it must be noted that on Monday afternoon dewpoints generally remained below 10C when GFS simulated 12-14C, hence proving the point that GFS (and associated WRF/NMM) produce excessive moisture and are therefore too "trigger-happy" with developing deep convection.
Nonetheless, deep convection does seem more likely than was the case on Monday - and a low-end SLGT has been introduced to better highlight the area of interest, though it is certainly possible no thunderstorms may occur. There is better model agreement on the potential for a few isolated showers / thunderstorms during the late afternoon / evening across NW Ireland, more especially as they move offshore, hence the inclusion of a low-end SLGT here - this dependent somewhat on sufficient cloud clearance during the afternoon hours.
... TUESDAY EVENING / NIGHT ...
During Tuesday evening / night, increased forcing aloft as the upper trough approaches from Biscay will encourage elevated convection to develop over NW France / English Channel and drift towards SW England. However, this will tend to turn increasingly dynamic with time as instability weakens. Nonetheless, pulses of showery rain will push into southern Britain and southern Ireland during the overnight hours, capable of producing a few lightning strikes from elevated instability. However, this is unlikely to be active or widespread enough to warrant a SLGT by the time such convection reaches land.