| | |
| --- | --- |
| Convective Outlook: Wed 24 Apr 2019 | |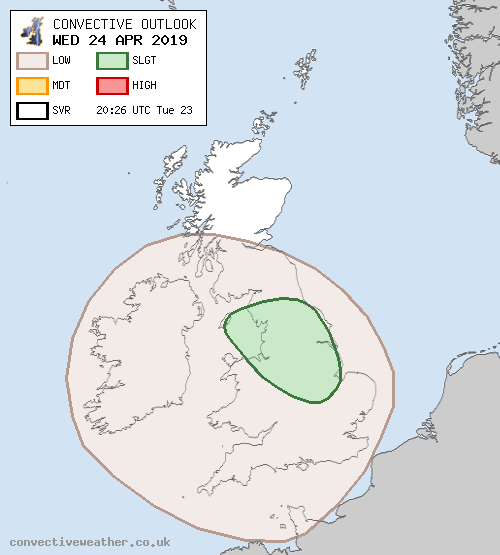 Convective Outlook
VALID 06:00 UTC Wed 24 Apr 2019 - 05:59 UTC Thu 25 Apr 2019
ISSUED 20:26 UTC Tue 23 Apr 2019
br> br>
ISSUED BY: Dan
Plume of relatively high ThetaW will advect northwards from France and across England and Wales during Tuesday night and Wednesday morning, as an upper low over the Atlantic west of Biscay extends a trough northwards towards Britain. The net result is increasing elevated instability by Wednesday morning as upper forcing arrives on the forward side of the aforementioned trough, aided further by potentially strong surface heating by midday and during the afternoon hours (dewpoints 12-14C).
... AHEAD OF THE COLD FRONT ...
At the start of the forecast period, showery outbreaks of rain will likely be affecting parts of Ireland, south Wales and S / SW England associated with the surface cold front. North of this front, elevated convection is expected to develop during the morning hours across the Midlands and East Anglia, which may become increasingly surface-based provided there are sufficient cloud breaks for surface heating. As a result, there is an increasing risk of scattered thunderstorms developing with time, particularly by the afternoon and early evening in a zone from the north/east Midlands northwestwards across northern England, north Wales and perhaps even the Isle of Man.
An approaching jet streak from the SE will increase speed shear and favour some organisation of thunderstorms by late afternoon and early evening across N / NW England, which combined with up to 1,000 J/kg CAPE is likely to lead to fairly frequent lightning and hail up to 1.5cm in diameter from the most intense cells. Some localised surface water flooding may be possible, especially where storms occur over large urban areas. The areas at greatest risk of organised thunderstorms are the N + NW Midlands, NW England up to south Cumbria.
Lightning activity is expected to weaken by the time thunderstorm clusters approach the far north of England and southern Scotland as instability wanes.
... BEHIND THE COLD FRONT ...
After a temporary lull in activity, the next shortwave will swing northwards from France during the evening and night hours. As a result, instability will increase across the English Channel and then into southern Britain, though not of the same magnitude as the activity across central Britain during Wednesday afternoon / evening.
Scattered showers are likely which may produce a few sporadic lightning strikes, though probably not frequent or widespread enough to warrant a SLGT. Decaying thunderstorms from northern France may pass close to SE England on Wednesday evening also.