| | |
| --- | --- |
| Convective Outlook: Mon 20 May 2019 | |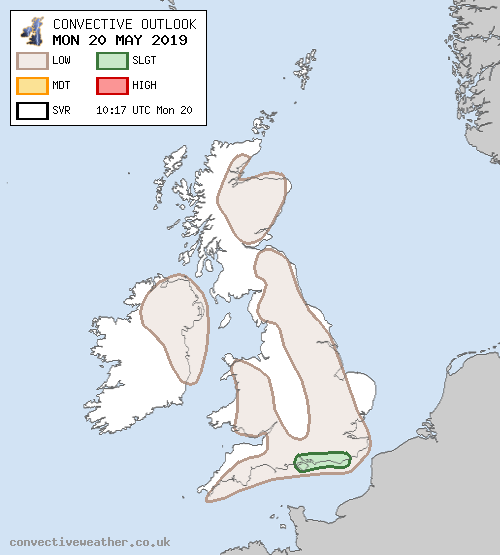 Convective Outlook
VALID 06:00 UTC Mon 20 May 2019 - 05:59 UTC Tue 21 May 2019
ISSUED 10:17 UTC Mon 20 May 2019
br> br>
ISSUED BY: Dan
UPDATE 10:17 UTC Low-end SLGT added to English Channel coast, where some localised flooding may be possible this afternoon / early evening
Similar to the past few days, broad upper troughing covers the British Isles on Monday, with a slack surface pressure pattern. Diurnal heating of the moist low-level airmass will yield 300-500 J/kg CAPE, with scattered showers likely to develop forced by low-level convergence and orographic forcing. Weak steering flow will lead to slow movement of showers, bringing the risk of some local surface water flooding.
Forecast profiles are slightly cooler aloft compared with the weekend (when a warm nose at 600-700mb limited convective depth) and so convection may be somewhat deeper on Monday, and hence capable of producing a few sporadic lightning strikes - this perhaps more likely over southern England and / or the East Midlands. However, confidence of lightning activity is not particularly high given weak shear and skinny CAPE, and so refraining from introducing a SLGT at this stage. A couple of funnel clouds will be possible given low cloud bases and areas of low-level convergence.

Elevated instability will also exist over the North Sea, though this activity will likely weaken before approaching the Northern Isles on Monday evening. It could also get close to the coast of East Anglia for a time late morning / early afternoon Monday.