| | |
| --- | --- |
| Convective Outlook: Fri 19 Jul 2019 | |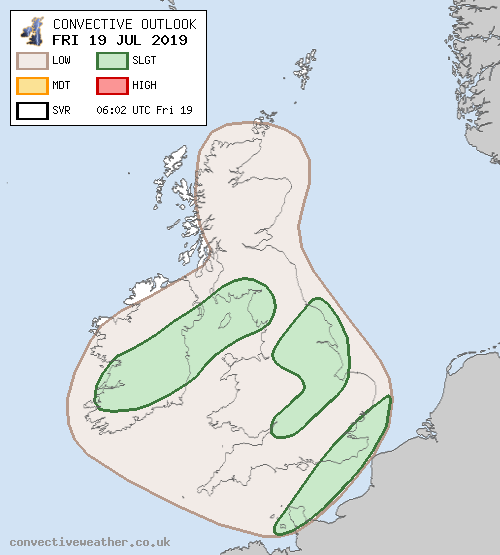 Convective Outlook
VALID 06:00 UTC Fri 19 Jul 2019 - 05:59 UTC Sat 20 Jul 2019
ISSUED 06:02 UTC Fri 19 Jul 2019
br> br>
ISSUED BY: Dan
UPDATE 06:02 UTC Low-end SLGT expanded across the E Midlands and N England for this afternoon / evening - and may need extending into parts of N / C Wales depending on trends. A SLGT may also be required for parts of S Wales / SW England for the early hours of Friday as scattered heavy showers return from the west, but confidence on lightning activity is not particularly high for now.
A broad upper trough will linger to the northwest of the British Isles on Friday, with strong southwesterly flow aloft on its forward side. A pronounced shortwave will approach the Celtic Sea late in the afternoon, swinging across Ireland during the evening and England/Wales overnight. This forecast period is rather messy, and so pinning down the local detail is rather tricky and nowcasting will play a key role.
... S IRELAND / CELTIC SEA / SW WALES: MORNING ...
A complex pattern will evolve during Friday, as a rather elongated and slack surface low drifts northeast across Ireland towards SW Scotland / NW England during the forecast period. Embedded elevated convection with some sporadic lightning is possible first thing on Friday morning over the Celtic Sea / S Ireland / SW Wales, but any lightning will tend to reduce with time as the intensity weakens during the morning hours.
... IRELAND: AFTERNOON / EVENING ...
In the wake of any morning activity, provided sufficient cloud breaks occur over central and southern Ireland, a notably unstable airmass (600-1,000 J/kg CAPE) will be possible here by midday and through the afternoon hours given heating of a warm, moist low-level airmass. Wind convergence, local topography and a differential heating boundary may all contribute to the development of scattered thunderstorms during the afternoon and evening hours, in an environment with 30kts DLS and forced ascent on the leading edge of the approaching shortwave.
Hail up to 1.5cm in diameter and an isolated tornado cannot be ruled out, given locally backed surface winds to the northeast of the surface low. The exact location of the narrow corridor where low-level shear will be maximised (along the convergence zone) is a little uncertain, and heavily dependent on the shape / elongated nature of the surface low - and nowcasting will be essential for detecting this risk. The convergence zone will tend to extend across the Irish Sea towards NW England, and so scattered heavy showers and isolated thunderstorms will also be possible over these areas.
One main concern is the close proximity to the wrap-around occlusion and the potential therefore for cloud cover to limit the amount of insolation.
... ENGLAND / WALES: DAYTIME ...
Frontal rain will continue to drift northwards and eastwards, perhaps with isolated embedded lightning but the risk is considered relatively low. If any clearance can occur to allow some surface heating during the afternoon / evening, scattered showers may also develop - particularly along a zone of low-level convergence from the Severn Estuary to The Wash - and therefore pose somewhat of a lightning risk. Confidence is low, but a low-end SLGT has been issued.
... CS / SE ENGLAND / EAST ANGLIA: OVERNIGHT ...
On Friday night a renewed surge of very warm, moist low-level air will approach from Biscay, as the approaching shortwave encourages poleward warm advection. Showery bursts of rain will affect southern and southeastern England, with elements of embedded convection giving locally heavy rain and a few isolated lightning strikes. Confidence is low, but there could be a few better-organised thunderstorms developing over the English Channel and running NE-wards with time (more especially after midnight), either over or to the east of Kent/Sussex - hence the inclusion of a SLGT here.