| | |
| --- | --- |
| Convective Outlook: Tue 23 Jul 2019 | |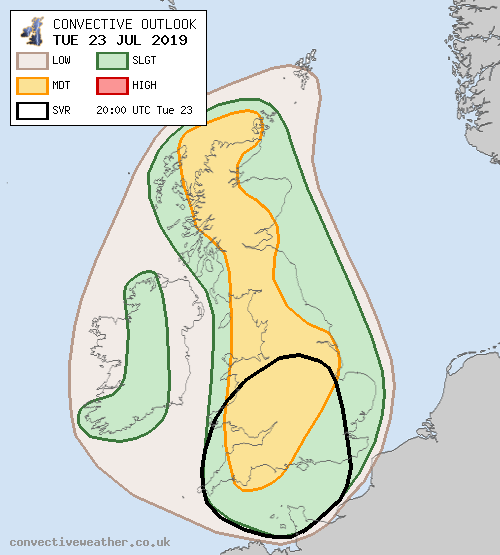 Convective Outlook
VALID 06:00 UTC Tue 23 Jul 2019 - 05:59 UTC Wed 24 Jul 2019
ISSUED 20:00 UTC Tue 23 Jul 2019
br> br>
ISSUED BY: Dan
UPDATE 20:00 UTC MDT expanded in size to highlight areas where lightning most likely to occur overnight. Any thunderstorms on the southern flank with unimpeded inflow (particularly in a zone from the West Country across the south and east Midlands) could produce very frequent lightning. SLGT also reshaped over Ireland based on latest guidance, though overall considered low-end here
An upper ridge will cover much of western and central Europe on Tuesday, its axis over Germany / Switzerland placing the British Isles in a south-southwesterly flow on its western flank. This will encourage gradual advection of a high Theta-W airmass northwards, with surface dewpoints up to 20C expected on Tuesday afternoon across England and Wales. An elevated mixed layer (EML) will over-run this very warm, moist low-level airmass, generally preventing any surface-based thunderstorms from developing.
Meanwhile, a shortwave rounding the largescale upper trough over the Atlantic to the west of Ireland will swing northeastwards, the associated falling heights and cooling aloft resulting in increasing instability over northern France and the western English Channel where 1,000 - 1,500 J/kg MLCAPE is possible by late afternoon and into the evening hours, locally up to 2,000 J/kg.
Convective initiation is expected mid/late afternoon over N France as a lead impulse encourages elevated convection to develop, these scattered showers/thunderstorms then drifting northwards into CS / SW England during the evening hours, riding the leading edge of the ThetaE ridge and ultimately marking the leading edge to the instability plume. Scattered elevated showers and thunderstorms will continue to develop and expand in coverage with each hour through Tuesday evening and night as they continue to migrate to the N or NNE - initially over CS / SW England, then affecting Wales / Midlands, northern England and eventually into Scotland later in the night. Other additional elevated showers/thunderstorms could develop on the eastern edge of the instability plume, and may affect parts of East Anglia and perhaps SE England.
The magnitude of CAPE/shear and very steep mid-level lapse rates suggests lightning will be very frequent at times. The environment will be conducive for thunderstorms to become locally severe, perhaps scope for one or two elevated supercells, capable of producing large hail - particularly during their early, more discrete stages before likely growing upscale into a mesoscale convective system (MCS) as they continue to drift farther north/northeast. Consequently, profiles will become increasingly saturated and instability will gradually weaken with time (and hence northward extent), and so a downward trend in lightning frequency is possible towards the end of the night.
A SVR has been issued to highlight the threat of large hail. Rainfall is somewhat less of an issue in general, due to a combination of reasonably fast storm motion and some evaporation of rain due to dry layers beneath the thunderstorm base. However, should multiple showers/storms move over the same area, then localised flooding could also be an issue.
There is still some uncertainty over the exact track / coverage of thunderstorms during Tuesday evening / night, and some relatively minor changes may be necessary to the threat areas - including perhaps the introduction of a HIGH threat level if confidence improves (main focus at the moment is the West Country and south Midlands).