| | |
| --- | --- |
| Convective Outlook: Mon 29 Jul 2019 | |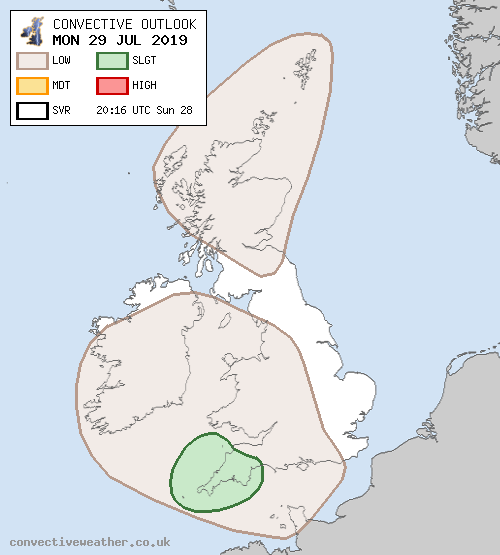 Convective Outlook
VALID 06:00 UTC Mon 29 Jul 2019 - 05:59 UTC Tue 30 Jul 2019
ISSUED 20:16 UTC Sun 28 Jul 2019
br> br>
ISSUED BY: Dan
On Monday morning, a shortwave will swing westwards from the North Sea across northern Scotland and the Northern Isles, associated with weakening elevated convection. As a result, a few showers are likely - the odd one perhaps gaining sufficient depth for a few lightning strikes.
By the afternoon the main focus will shift to scattered surface-based convection across the N / NW mainland, eventually drifting northwestwards towards the Outer Hebrides. A few sporadic lightning strikes will be possible, although the % chance is considered sub-SLGT. Slack conditions with low-level convergence and topographic effects may allow the odd funnel cloud to develop. Showers here will gradually decay during the evening hours as daytime heating subsides.
Meanwhile a sharpening upper trough to the west of Biscay will evolve into a cut-off upper low associated with a cold pool aloft atop seasonably warm SSTs. The surface low, containing subtropical moisture and reasonably high Theta-W, will slowly drift northeastwards to SW England on Monday evening / night, containing a messy mixture of dynamic and convective precipitation organised into bands rotating around the low centre. However, with time the low is expected to gradually lose its frontal structures, with primarily convective bands then encircling the centre by Tuesday morning.
Due to the near-vertically-stacked nature of the low (although some tilting to the NW with height), shear will be fairly unidirectional and hence rather weak, which combined with fairly moist profiles will tend to limit the lightning potential. However, reasonable instability of 300-600 J/kg CAPE could allow some sporadic lightning to occur from the most intense cells. One or two waterspouts / tornadoes are also possible.