| | |
| --- | --- |
| Convective Outlook: Tue 15 Sep 2020 | |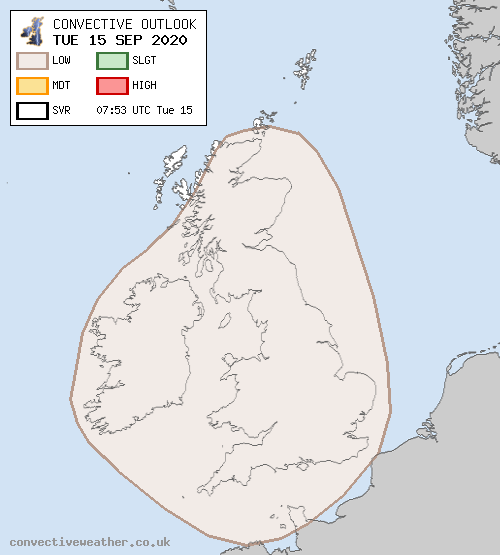 Convective Outlook
VALID 06:00 UTC Tue 15 Sep 2020 - 05:59 UTC Wed 16 Sep 2020
ISSUED 07:53 UTC Tue 15 Sep 2020
br> br>
ISSUED BY: Dan
Rex block pattern dominates Europe through Tuesday, characterised by a strong upper high over central Europe and an upper low over the Mediterranean. Trough disruption over the Atlantic will result in a second upper low sinking south to the west of Iberia. An upper ridge generally covers the British Isles through this forecast period, with a broad south/southwesterly flow aloft, advecting a marked elevated mixed layer (EML) across much of England and Wales. A PV strip is noted curving from E Scotland - SW Scotland - Irish Sea - SW England at 06z, the focus of this strip will then shift gradually eastwards to be positioned around SE Scotland - NW England - Wales - SW England by 12z, then NE England - Midlands - Cen S England by 18z and finally E Midlands - E Anglia - SE England by 00z. This may induce some weak forcing aloft, above / around the periphery of the EML, to bring the risk of a few semi-random elevated showers / weak thunderstorms. Since these are not dependent on surface heating, they could occur at almost anytime during this forecast period. However, guidance is not particularly bullish in this risk and so a broadbrush LOW threat level has been issued given the vast majority of places will remain void of any lightning activity.
Elsewhere, strong surface heating will yield some SBCAPE across England and Wales, but beneath a stout cap courtesy of the EML. Forecast profiles suggest 2m temperatures at least 33C (ideally higher) would be required to trigger surface-based convection across SE England, slightly lower trigger temperatures further towards NW England (but not significantly so). Therefore it seems unlikely any noteworthy surface-based convection will develop on Tuesday.
The main exception is perhaps north and west Ireland (primarily Connaught to Ulster) where capping is weaker and a warm, moist low-level airmass exists (temperatures 18-20C and dewpoints 16-17C). In the absence of any substantial forcing aloft (some weak PVA), low-level convergence will likely be the primary driver for any deep convection that can develop towards the end of the afternoon and well into the evening / night hours. Some concerns exists over one or more warm noses aloft, and whether convection can grow tall enough for much in the way of lightning (especially given very limited NWP support). Northern Scotland may also need monitoring for a few hours late afternoon before the cold front moves through.