| | |
| --- | --- |
| Convective Outlook: Wed 21 Jul 2021 | |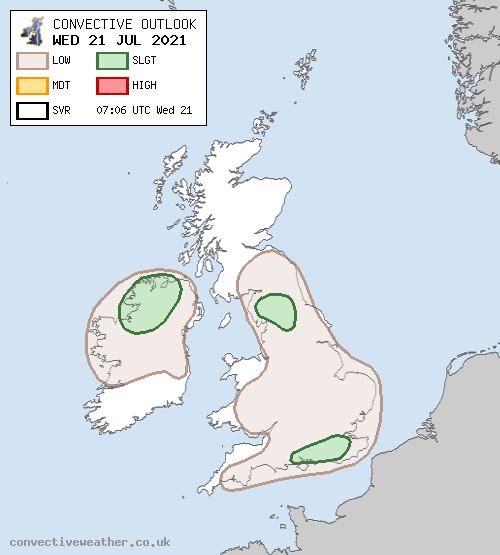 Convective Outlook
VALID 06:00 UTC Wed 21 Jul 2021 - 05:59 UTC Thu 22 Jul 2021
ISSUED 07:06 UTC Wed 21 Jul 2021
br> br>
ISSUED BY: Dan
Broad upper ridging continues to cover the UK/Ireland on Wednesday, if anything strengthens a little. Aloft, the remains of a PV anomaly will linger over the southern North Sea, close to East Anglia and SE England, slowly drifting southeastwards into the Low Countries. Being on the rear side, this typically results in descent and therefore overall there is very little upper-level drivers for deep convection to occur. Another day of strong surface heating of a moist low-level airmass (dewpoints 16-19C) will yield substantial CAPE (1,000-1,500 J/kg), but much of this capped by several warm noses and/or dry, subsiding air aloft. Indeed, convective cloud may attempt to bubble-up and try repeatedly to gain greater heights, but for most areas this is unlikely to succeed in generating heavy showers or thunderstorms.
The main areas where deep convection is most likely to occur will be along both convergence zones (enhanced by sea breeze) and upslope flow over hills/mountains. Therefore, particular attention for isolated heavy showers / thunderstorms is given to portions of East Anglia / SE England, Cumbria / the northern Pennines / Southern Uplands, and Ulster / Connacht. Some directional shear is noted, but overall DLS will be rather weak given the lack of strong flow aloft - and so storms will generally pulse quite a bit, but the magnitude of CAPE (and therefore fast upward motion in updrafts) could result in some marginally-severe hail. Flash flooding will also be a hazard.
A few low-end SLGTs have been introduced to try and highlight areas with a slightly higher risk, but it should be stressed that confidence on much in the way of thunderstorms developing is rather low - but should an isolated one develop (such as along the sea breeze convergence in southern England) it could pose the risk of large hail and flash flooding.