| | |
| --- | --- |
| Convective Outlook: Mon 27 Jun 2022 | |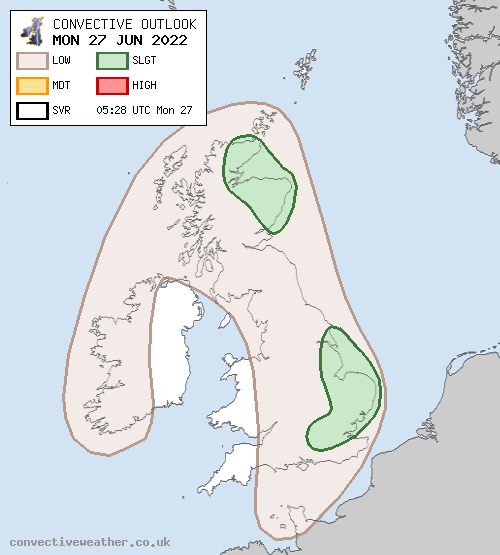 Convective Outlook
VALID 06:00 UTC Mon 27 Jun 2022 - 05:59 UTC Tue 28 Jun 2022
ISSUED 05:28 UTC Mon 27 Jun 2022
br> br>
ISSUED BY: Dan
A disrupting upper trough will migrate eastwards across Britain on Monday as a cut-off low forms over Iberia. This will coincide favourably with diurnal heating across central/eastern Britain within a residual tongue of low-level moisture (dewpoints typically 10-12C) to yield 300-500 J/kg CAPE. Increasing convergence as a surface trough (co-located with a decaying occlusion) drifts progressively eastwards across England will likely provide the main focus for forced ascent. This will be also be enhanced by a strengthening onshore flow over S/SE England, with a convergence zone likely to extend back westwards from Essex down to Southampton and then close to the south coast to Devon. The slacker regime across Scotland will also provide the focus for a combination of both onshore breeze convergence and orographic forcing.
All in all, early showery rain over N England and the Midlands will turn increasingly convective as it drifts eastwards through the day, and numerous showers and a few thunderstorms are likely by the afternoon/early evening. Some small hail (<1cm) is possible, while forecast profiles reveal a deeply-mixed boundary layer with fairly high cloud bases, which may support locally gusty winds of 40-50mph across Lincolnshire and East Anglia near the most intense cells. Cloud tops may push close to 21,000ft, but with rather skinny CAPE profiles. Within the trough axis shear will be naturally fairly weak, and so pulse type convection is likely for the most part, however strengthening northwesterly flow aloft on the rear side of the upper trough could support some slight organisation/longevity of any lingering cells late in the afternoon - this perhaps most likely in the Surrey-London-Essex area where the low-level convergence bends sufficiently west for a more favourable overlap. In any case, warming/subsidence aloft behind the trough will result in increasingly shallow convection from west to east later in the day and showers will likely quickly decay during the evening.
Overnight, the attention turns to western Ireland as the next Atlantic frontal system arrives and the potential for some embedded convection towards the rear of the occlusion in a sheared environment. Some line segments may develop, but profiles do not look overly conducive to much in the way of lightning.